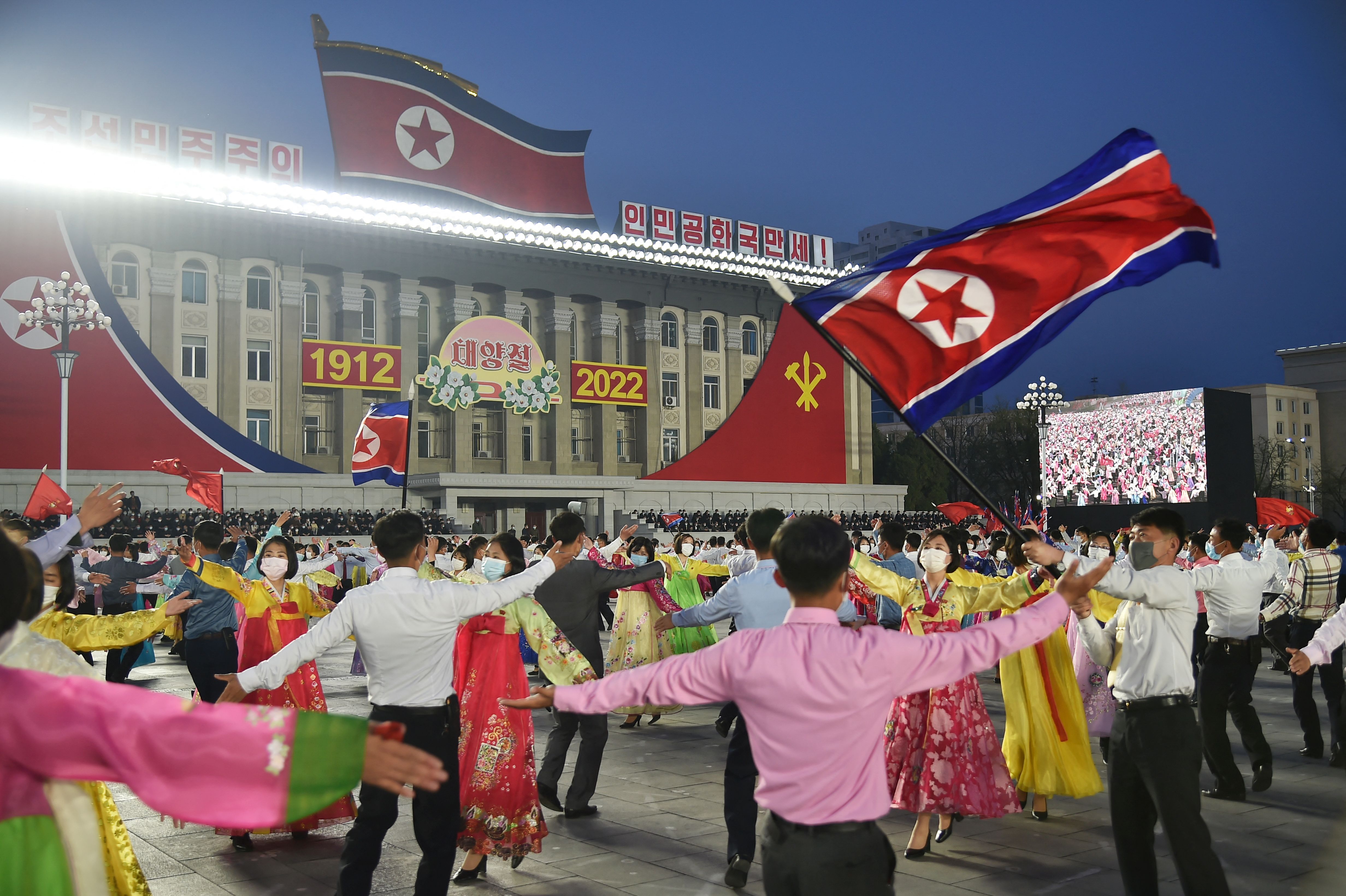 A Crypto Entrepreneur Is on the Lam After Dev Jailed for North Korea Trip
Image: KIM WON JIN/AFP via Getty Images
The U.S. Department of Justice accused two European citizens of money laundering for their role in helping the North Korean government organize a cryptocurrency conference in 2019. One of the men, 30-year-old Christopher Emms, is a cryptocurrency entrepreneur with a long list of projects over the years. Both suspects are currently at large, according to DOJ. 
On Monday, the DOJ announced the indictment of Alejandro Cao De Benos, 47, a citizen of Spain, and Emms, who is a citizen of the United Kingdom. Cao De Benos and Emms allegedly planned and organized the Pyongyang Blockchain and Cryptocurrency Conference in 2019, according to the announcement. 
Because of their alleged role in organizing the conference, prosecutors are accusing them of conspiring to help the North Korean government evade U.S. government sanctions. Earlier this month, Ethereum programmer and evangelist Virgil Griffith received a sentence of five years in prison for giving a presentation at the same 2019 cryptocurrency conference. De Benos and Emms are being charged as co-conspirators with Griffith. 
"The United States will not allow the North Korean regime to use cryptocurrency to evade global sanctions designed to thwart its goals of nuclear proliferation and regional destabilization," Assistant Attorney General Matthew G. Olsenis is quoted as saying in the announcement. "This indictment, along with the successful prosecution of co-conspirator, Virgil Griffith, makes clear that the department will hold anyone, wherever located, accountable for conspiring with North Korea to violate U.S. sanctions."
Emms recruited Griffith for the conference and arranged for his travel, prosecutors allege. The two together "provided instruction on how the DPRK could use blockchain and cryptocurrency technology to launder money and evade sanctions," according to the feds. 
"Emms opened the DPRK Cryptocurrency Conference by stating that it was a 'great honor' to be 'leading this delegation' to 'explain to you a lot about blockchain . . . and how you can use this technology here in the DPRK.' Emms introduced Griffith as an 'early scientist' behind blockchain technology, which, according to Emms, made it 'possible to transfer money across any country in the world regardless of what sanctions or any penalties that are put on any country,'" the announcement reads. 
The prosecutors included a transcript of Emms' opening remarks at the 2019 conference in the indictment.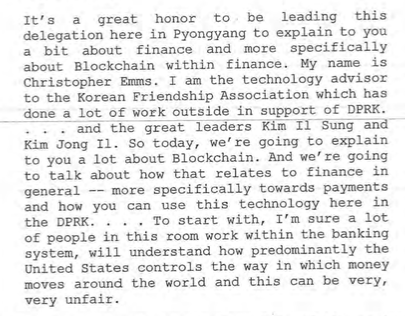 Prosecutors allege that Emms and Cao De Benos, along with Griffith, continued working with North Korea even after the conference by "seeking to develop potential cryptocurrency infrastructure and equipment inside North Korea," according to the indictment. Griffith planned a symbolic transfer of 1 ETH between South and North Korea, according to the authorities. 
Cao De benos is a Spanish aristocrat and the founder of the Korean Friendship Association, a pro-DPRK affinity organization. He is believed to be the only Westerner to be actively working for the North Korean regime. Emms' history in the cryptocurrency industry goes back several years and encompasses a wide range of projects, however. 
Emms' Twitter bio says he is the CEO of TokenKey, which was founded in 2017 and claimed to offer "end-to-end solutions for ICO and token launches, assisting clients around the globe in getting projects off the ground with crypto- and Blockchain-based crowdfunding and peer-to-peer financing," according to a press release. His bio also claims he held the position of Vice President at Coinstreet Partners, a "decentralized investment banking group," but the only reference to him on the firm's website is a 2018 news release mentioning his name among a list of advisors for a token, without mentioning a position at Coinstreet Partners. The firm did not immediately respond to a request for comment.
Do you have more information about this case? Or about the 2019 crypto conference in North Korea? We'd love to hear from you. You can contact Lorenzo Franceschi-Bicchierai securely on Signal at +1 917 257 1382, Wickr/Telegram/Wire @lorenzofb, or email [email protected]
In 2018, Emms was also an advisor and promoter for a cryptocurrency called Skycoin. In a YouTube video that was tweeted out by deceased infosec pioneer and cryptocurrency promoter John McAfee, Emms sits in a sunny locale—he says he is in Puerto Rico—and promotes the Skyminer, a mining rig produced by Skycoin. 
"With the Skyminer, and the antennae on top, this can go into the homes of millions of people all over the world who suffer from internet poverty," Emms claimed, saying that Skyminers can network into a "decentralized internet that can be shared without ISPs."
Also in 2018, Emms spoke at another cryptocurrency conference in Dubai, where he announced Decentralized Ventures. This was supposed to be a partnership "set up to support the Maltese government's plans to create the world's first fully regulated market for ICOs, distributed ledger technology (DLT) and virtual currencies." 
He has also worked for WaveCrest, a Gibraltar company "driving forward cryptocurrency debit cards," according to Emms' profile on Crunchbase. 
Emms hasn't tweeted since 2018, and his LinkedIn account has been deleted. The official websites of TokenKey and Decentralized Ventures are currently down. Decentralized Ventures' Twitter account has been inactive since 2018. 
Emms is also the founder of the Catholic Blockchain Association, an organization with the mission of helping "the Catholic Church harness the power of blockchain to empower the poor in the developing world, securely store information in the long-term, and improve financial transparency in Church operations, ensuring funding goes to where it is most needed," according to the organization's official website. The real scope of this entity is unclear, and links to its social accounts simply redirect back to Emms' personal accounts. 
Both Cao De Benos and Emms "remain at large." If found guilty, the two could face a sentence of 20 years in prison, according to the DOJ. 
Subscribe to our cybersecurity podcast, CYBER. Subscribe to our new Twitch channel.

https://www.vice.com/en/article/88gp8g/a-crypto-entrepreneur-is-on-the-lam-after-dev-jailed-for-north-korea-trip