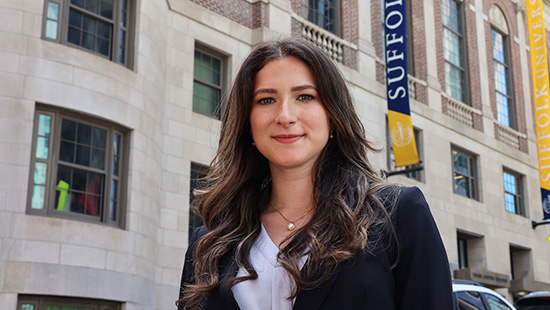 Fintech Front Runner – Suffolk University
Jagathi Gururajan, founder and CEO of Fintech Women, was in a hurry. After participating in a Suffolk Finance Club panel discussion a few years ago, she had a plane to catch.
While racing to meet her ride to the airport, she was approached by Laura Velez, BSBA '22. The Sawyer Business School student told Gururajan how impressed she was by her remarks, and how eager she was to learn more about fintech. The global technology executive handed Velez her business card and asked that she contact her.
Velez soon made the call. Today, she is the president of the Suffolk chapter of Fintech Women, which she founded in 2021 to help prepare female business students to thrive in the fast-emerging field that employs technology to improve financial services.
Using education to level the playing field
Not familiar with fintech? Chances are good you're already using it, Velez says, pointing to mobile payment services like Venmo and PayPal.
Yet while fintech is a relatively new offshoot in the financial industry, it remains a field dominated by men. Velez cites a recent Deloitte study showing that the vast number of fintech companies are founded by men, who also attract the lion's share of fintech venture capital. This despite the fact that, according to a Boston Consulting Group study, female-founded businesses outperform their male counterparts by more than 2-to-1 when it comes to investment returns.
Furthermore, says Velez, the financial industry has consistently had one of the country's largest gender pay gaps.
"To overcome these barriers, a diverse approach is required, and that includes education," the finance major says. She sees organizations like Fintech Women as an important way to level this playing field.
"Our mission is to build a vibrant fintech community by creating a more prepared workforce of students, women as well as men, who possess the knowledge and skills necessary to develop innovative fintech solutions," she says.
The SU chapter is composed of a five-student executive board, 20 active members, and an additional 100 members who receive the organization's newsletter. The chapter offers workshops and events to help students develop skills and learn about emerging technologies.
Earlier this year, they hosted guest speaker Michelle Neal, BSBA '98, an executive vice president with the Federal Reserve Bank of New York, where she is a member of the Executive Committee and serves as head of the Markets Group. Velez had lunch with Neal that day, and the two have remained in touch.
"She's incredibly inspiring to me, because she has worked all over the world and her expertise is not limited to one field," says Velez, who immigrated to the US from Cuba in 2012. Velez became a US citizen on December 14, 2017—the same day she received her acceptance letter from Suffolk.
A growth mindset
Sawyer Business School offers a minor in Fintech, as well as an Introduction to Fintech course where students learn about topics ranging from datafication to alternative finance, algorithmic trading, Blockchain, and cyber security, using a combination of case studies and guest lectures.
Finance Professor Kenneth Mooney, BS '77, MBA '80, who teaches the course and serves as faculty advisor to the SU Fintech Women chapter, says Velez has been a star pupil. "Laura is so impressive in the way she carries herself," says Mooney. "She not only knows how to listen well, but how to make things happen. She is really adept at getting different parties to collaborate to help women advance their education and careers."
In September, Velez will put all these skills to work as a transfer pricing associate for KPMG, one of the Big Four global accounting firms. And while college is behind her, she's not done learning: "I want to remain a student of life, and continue to look for opportunities to grow within my field."
https://www.suffolk.edu/news-features/news/2022/05/21/14/32/valez