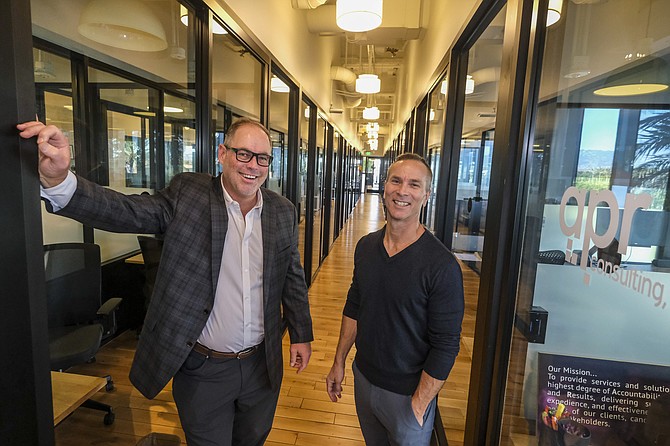 Photo by Ringo Chiu.
Viewers who tuned in earlier this year to see the Perseverance rover touch down on the surface of Mars probably saw images of flight controllers celebrating the momentous landing at Pasadena's Jet Propulsion Laboratory.

The California Institute of Technology-managed research center houses the mission control center for multiple NASA projects, including the Perseverance rover — and it takes far more people than just those in the control room to oversee such complex operations.

That's where Diamond Bar-based APR Consulting Inc. comes in. The staffing firm announced Dec. 9 that it had been awarded a support and services contract valued at $500 million over 10 years to recruit staff and contract employees for the federally funded facility.

Aaron Stone, APR's chief operating officer, said the staffing needs of a facility the size of JPL can be quite complex, and the firm's new contract with the facility reflects this.
"We'll be right there to provide recruiting when they need information technology people, or data scientists, or financial (staff) — whatever they need for the laboratory, we will be bringing those people in and hiring them on our books," said Stone.
To meet the demands of such a contract, Stone said, the firm has to ensure it has access to deep pools of workers in multiple categories.

"We have a specific team that delivers on higher-level technical roles," Stone said. 
"We have other teams focused on accounting and finance. And we have another group that's more administrative and clerical work."
Sometimes, said Stone, it's the most mundane roles that keep a facility like JPL up and running.

"It's a pretty wide bundle of labor types," he said. "It's even down to material coordinators and shipping and receiving (personnel)."

Under the terms of the agreement with JPL, APR will keep a range of temporary and contingent employees on its payroll to meet the facility's staffing needs. Additionally, 300 employees currently working at JPL will be transitioned onto APR's payroll once the agreement goes into effect in February.

Some of the positions filled by APR will be temporary roles; others may be longer-term or temp-to-hire positions.
 
Stone said the firm will also be responsible for onboarding employees and supporting their needs out of an office the company is opening 1.5 miles from the JPL campus.
It's a major contract for APR, which right now supports around 750 employees on a given day, and Stone said the deal is a validation of APR's decades of experience in the aerospace sector.

Ability to pivot
Founded in 1980, the firm initially specialized in recruitment for aerospace companies but branched out to other industries in the 1990s as the aerospace sector consolidated and the firm outgrew its original small business classification for government-funded contracts.

Today it has five offices, including three in Southern California, and has placed workers in all 50 states. It not only works directly with clients seeking to fill open positions but also partners with larger agencies to meet the contingent staffing needs of major corporations that outsource recruitment to managed service providers.

Stone said the company has persisted through challenges and evolved organically over the years — never growing through acquisition or being purchased by another staffing firm — largely due to an ability and willingness to pivot in order to attract new clients or meet the shifting needs of existing ones.

The staffing industry took a big hit early in the pandemic with the number of temporary and contract employees falling to a 10-year low in April 2020, according to a McKinsey & Co. analysis of data from the Bureau of Labor Statistics.

At the same time, demand for workers in the IT, administration and professional services fields either remained flat or decreased, according to the same report.
Facing this reality, Stone said, APR quickly saw the need to branch out into new sectors — like health care. Though the firm keeps its client list confidential, Stone said APR partnered with one of the state's largest care providers to support a large and logistically complicated Covid-19 vaccination campaign.

"We immediately pivoted the whole company toward health care," Stone said. "We saw the need there, and we stepped onto the scene through existing relationships and being able to support these (clients) who needed medical techs or people administering tests and vaccines."

Eventually, Stone said, the need for such personnel may decline, but the experience has bolstered the firm's presence in the health care industry and given it the ability to meet the needs of an even more diverse list of clients.

"We know things can change fast, and we have to adapt and keep on going," Stone said.

Family-run operation
Though the company has changed much since 1980, its new contract with JPL is a testament to its continued ability to serve major aerospace clients.
In a statement, APR Chief Executive Linda Stone said that the newly announced deal was a "full-circle milestone" for the company, which she co-founded in 1980 with Aaron Stone's late father, Darryl Stone.

"As a former professional in the aerospace industry, I'm especially excited that APR has won this opportunity to serve an organization of JPL's caliber and reputation," said Linda Stone, who worked as an IT consultant prior to starting APR.

Aaron Stone said the fact that the firm is a family-run operation has contributed to the development of a strong staff culture that has helped it to retain talented employees and onboard new personnel.

"We treat our employees as family," he said. "A lot of our internal employees have been with us for over 10 years. We have a lot of longevity within our core team, and we've developed a culture that's really interactive and fun. We take that very seriously."
For reprint and licensing requests for this article, CLICK HERE.

https://labusinessjournal.com/news/2021/dec/20/jpl-500m-contract-staffing-apr-consulting/