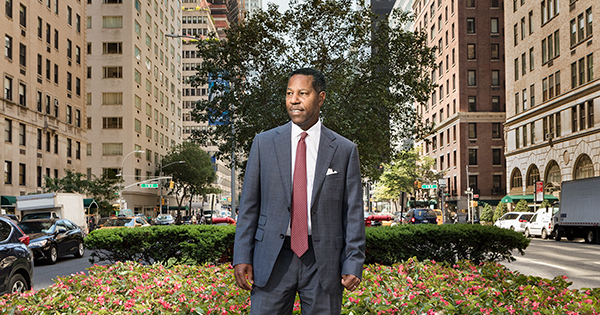 Opening Doors: David R. Jones (CGS'84, Questrom'86), cofounder, president, CEO, CastleOak Securities | Bostonia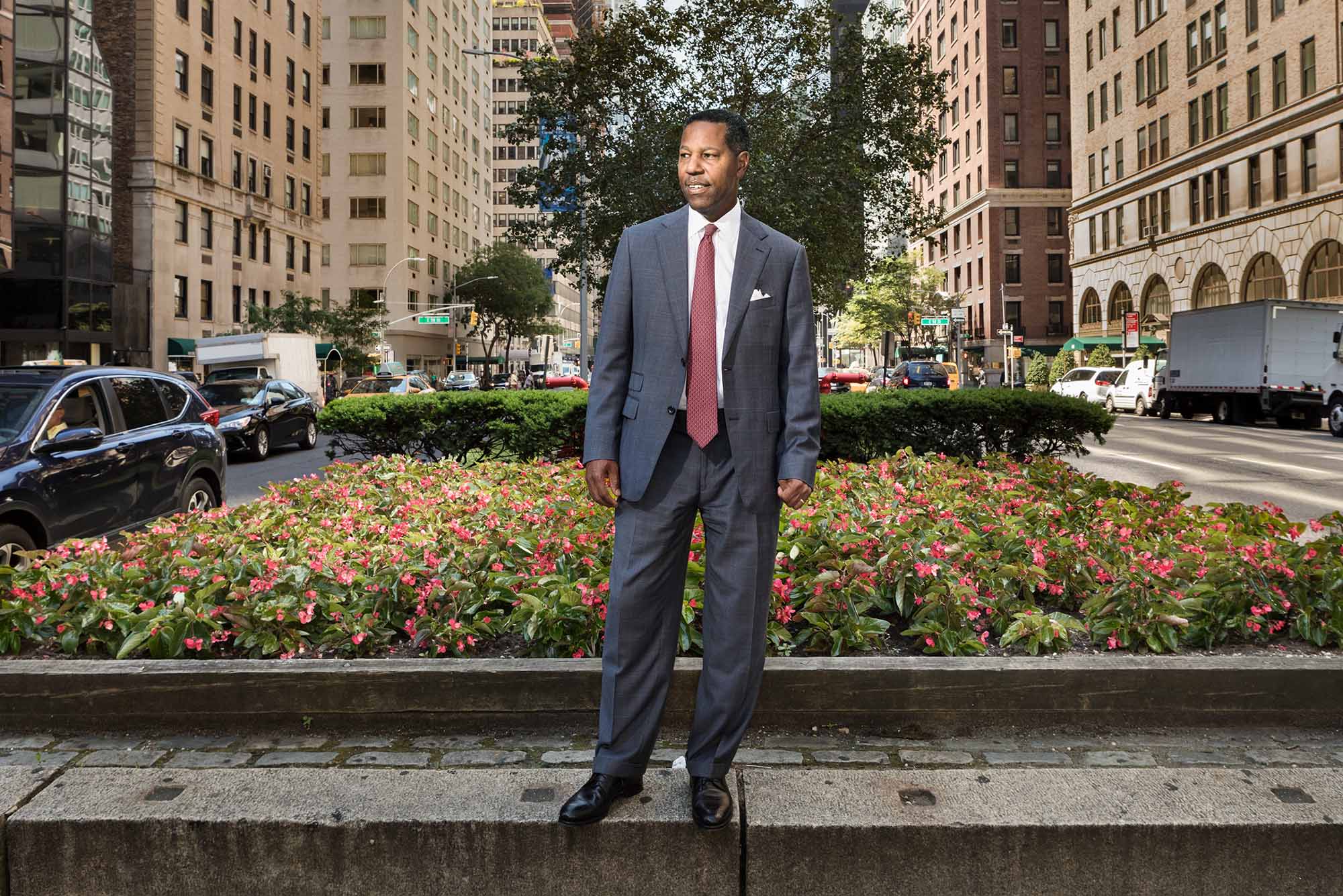 David R. Jones,

Cofounder, president, CEO, CastleOak Securities
They are determined to use their experience, influence, and positions to help make their business, organization, and world more inclusive. They are breaking barriers—and then reaching back to help those behind them overcome the same hurdles. They are BU alumni, faculty, and staff—of every race, ethnicity, age, and gender—and they are "Opening Doors" for the next generation.
---
David R. Jones cofounded CastleOak Securities in 2006. Helping corporations sell bonds and issue stock, CastleOak has raised millions for blue-chip firms like Verizon, Comcast, AT&T, Capital One, and Prudential Financial. Black Enterprise magazine named CastleOak the Financial Services Company of 2017, describing it as "a magnet for leading corporate, government, and institutional clients, as well as [Wall] Street's most talented traders and investment bankers."
Jones (CGS'84, Questrom'86), CastleOak's president and CEO, is the Ohio-raised son of a certified public accountant. His brushes with racist comments in his youth shaped his company's philanthropy. CastleOak has funded scholarships for underrepresented students at BU and the University of Pennsylvania, sponsored the PGA Minority Collegiate Championship, and supported after-school programs for underprivileged kids. Jones spoke with Bostonia about the need for diversity, from the ivory tower to white-shoe Wall Street.
Q
&

A
with David R. Jones
Bostonia:
How did you get started in banking and finance, and was it hard getting your foot in the door?
I always had an interest in finance. My dad was a CPA, so he opened my world up to business. When I graduated, I started working with him for a few months, and then with a larger CPA firm, and then with a bank. I knew I wanted to get to Wall Street. I was intrigued with the mergers and acquisitions and big deals that were in the Wall Street Journal. It was crystallized by the movie Wall Street—you know, Gordon Gekko.
Bostonia:
I might have thought that would turn a lot of people off. Gekko was not an admirable guy.
No, but in any profession, you get so big, you think you're above the rules. That happens in a lot of places. Before he thought he was above the rules, he was doing a lot of big, exciting things. That aura of Wall Street intrigues me.
Bostonia:
Who opened doors for you?
I got to Merrill Lynch through going to [Penn's] Wharton School. It was really Wharton. Wall Street 25 years ago was definitely an old boys' network. Wall Street didn't even recruit from Boston University. I had to be proactive. I called around Wall Street to find folks who might have gone to BU. I got an interview with Lehman Brothers; it didn't go well, but that was out of sending literally 50, 60 cover letters and résumés.
Bostonia:
Was that cold shoulder because it was an Ivy League and white boys' network?
It was just the Ivy League. I didn't have anything that said I was a Black student. It was more of, if I didn't have the Ivy League or wasn't graduating summa cum laude or have an advanced degree, they didn't have an interest. When I did get to Wharton, that's where a lot of firms were coming, so I could at least get interviewed and get in the door. I got an offer from Merrill Lynch through networking and talking with folks at Merrill.
Bostonia:
How open and welcoming was BU for you?
It was fine. BU is truly international and cosmopolitan. One of my first classes at BU, there was a young lady [of] South Africa [heritage] who said she'd never been in a classroom with a Black person. That wasn't derogatory; that was just a fact. She was from Connecticut.
I would hear [some students] make derogatory comments about other races, whether Mexicans, Jews, or Asians. In my mind, I'm going, "If they're going to say that in front of me, what are they saying about me in front of other people, about African Americans in front of other people?" I was coming from Ohio, [where] I had a couple of run-ins with folks. When you're a minority in a majority setting, some stuff you chalk up to: this is what happens. I'm sure it's the same thing for women in an all-male environment. You're going to get off-color jokes or comments. I went to a private high school, predominantly white, not a lot of ethnic diversity. It was more of a cocoon. I graduated with 27 kids in my class. My parents were professionals, so the racism or discrimination I faced was more subtle. 
When I was 8, 9, 10, a female at a picnic got in a little disagreement [with me]. This white girl—she was my age—the last thing she said was, "At least I'm not Black."
Bostonia:
How did you handle that?
With composure. I don't remember what I said. I'm not the kind of guy who's going to fly off the handle, start yelling or screaming or fighting. That's how I've dealt with a lot of issues in my career. You've just got to take a deep breath. We all make stupid statements at times. In the moment, you're not so sure [whether] that's some misunderstanding or deep feeling they have.
Bostonia:
How did those experiences inform your founding CastleOak?
A lot of issues are rooted in people not being exposed to other, ethnic folks. People get their opinions on others through the media, [or] it might be their parents and stories they hear. But they never really experienced different folks, how they are. We all want the same things. We want to be liked, we want to have families, we want to take care of our children. There's nothing I look at and say, "Those people are completely different, they want different things, they're bad people."
Bostonia:
Can you share examples of young people helped by CastleOak?
Giving youth exposure to who I am is very helpful. To see a minority professional—some folks see it, some folks don't. Not only giving money, but giving time. Speaking to students—I come to BU to speak.
We have young analysts. We don't hire young folks to be career people at CastleOak. That's not our model. We need them to be here two, three, or four years, and they generally move on. A lot of our analysts are now at firms like Morgan Stanley or J.P. Morgan. A New York City councilman used to work here. Folks have gotten training and exposure here that they maybe never would have gotten.
Bostonia:
Much of your effort is focused on education. What led you to get involved with the PGA?
I have a passion for golf. The PGA puts on a minority collegiate championship. I wanted to put money behind beefing up the tournament, but also, I wanted to tie in a job fair with that. A lot of recruiters like to hire student athletes. They're disciplined, competitive, and a lot of aspects of sportsmanship can be related to the business world. There are a lot of successful folks in corporate America who play golf. You tie in the diversity angle of recruiting student athletes—it's a diverse population—it would be natural. 
We had a little disagreement. They only wanted to focus on the golf industry. I wanted to expose them [the athletes] to [more]—the first year, I got Delta Airlines, Kroger, Bloomberg to come for the job fair. The PGA wanted to beef up their own industry, getting more minorities involved in the golf industry. I supported the tournament for two years and then pulled out.
Bostonia:
What can people do in their workplaces to make them more inclusive, diverse, welcoming? What diversity policies do you set for CastleOak?
People have to be more diligent and intentional about creating a diverse workplace. If you've got 100 employees and everybody looks the same, they're going to have issues of diversity of thought. As the world progresses, the people you're doing business with are going to change. The ability to understand and interact and win additional business—you need to have that diversity.
We're a smaller company—we've got 55 people—but it's in our DNA of just always looking for diverse talent. We want to be in a place where we don't need to have a diversity policy, because it happens—50 percent of our people are people of color or women. Show me another Wall Street firm our size or larger that has numbers like that. You need to be intentional, and that intention is where you would set your own [policy]. If you're a successful businessperson, you can figure these things out.
This Series
Also in
Opening Doors

Series home
Opening Doors: David R. Jones (CGS'84, Questrom'86), cofounder, president, CEO, CastleOak Securities